National Marine Institute's prime mission is to provide marine science educational programs for elementary, middle and high school students in South Florida.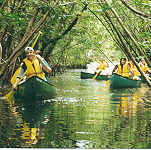 Students experience nature during a canoe tour through coastal mangroves.
These educational programs are completely FREE to the students and are prepared and presented by our very dedicated instructors.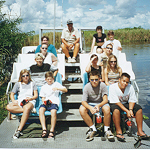 Airboat rides in the Florida Everglades are fun and educational.
The education program consists of 12 two-hour sessions supplemented by a variety of field trips. Each student is given a marine science handbook as a study guide and textbook for the class. The classroom sessions consist of lectures, discussions, videos, and labs. The curriculum covers the basics of oceanography, marine biology, conservation, and ecology. The course concentrates on South Florida's marine environment: coral reefs, mangrove hammocks, and the Everglades. Students learn how waves, tides, currents, and plate tectonics affect the health and vitality of marine creatures living in and around these sensitive ecosystems. Lake Okeechobee, sharks, bony fish, sea turtles, marine mammals, endangered species and other related topics are also covered.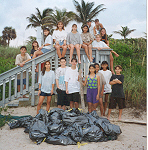 Bags of trash are removed from our Florida Beaches by some of our students.
Field trips include Florida Everglades airboat and canoe outings, Seaworld-Orlando, beach cleanups, turtle walks, Miami Seaquarium, Fort Lauderdale Museum of Discovery & Science, Harbor Branch Oceanographic Institution, Gumbo Limbo Nature Center, IGFA Fishing Hall of Fame & Museum, Nova Southeastern University (NSU) Aquaculture Center, NSU sea turtle hatchling release program, a snorkel day-camp, and other marine and educational locations. Field trips vary for each class and are determined by class size, student abilities, weather conditions, location availability and accessibility.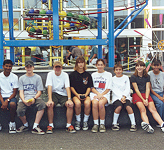 The Fort Lauderdale Museum of Discovery & Science is a nearby attraction.
Classes may be modified or structured to accommodate a specific group or club. We have worked with Boy Scout and Girl Scout groups to earn Merit Badges, 4-H Clubs, Home Scholars, Marine Biology Clubs, public and private schools, Marine Science Departments and other interested students. We welcome any inquiries and will do our best to structure our program to fit your group's specific needs.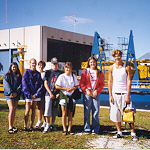 Students view modern oceanographic tools at Harbor Branch Oceanographic Institution.
National Marine Institute does not discriminate on the basis of race, color, national or ethnic origin. We maintain a one million dollar liability insurance policy in accordance with Florida and National Education rules and regulations. Our educational program is supported by our Boat Donation and Yacht Donation Program.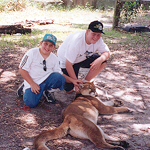 Two students meet and experience a Florida Panther at Sawgrass Recreation Park in the Florida Everglades.
To review our class schedule or for more information on how to attend one of our next classes, please refer to our Enrollment Information Page .
---